What is a Digital Adoption Platform?
A digital adoption platform (DAP) is no-code software that integrates completely with applications in order to help the user learn the application. Digital adoption platforms use in-app guidance such as walkthroughs, task lists, smart tips, self-help menus, and more to guide the user through every aspect of an application. This empowers organizations to find true ROI of their internally-used software applications and digital transformation, onboard users and customers to their custom apps, understand how employees and users are adopting and engaging with applications, and create a more intuitive technology experience for their employees, customers, and users.
See why Whatfix is the #1 digital adoption platform for creating in-app learning content to drive application adoption.
What Is The Role Of A Digital Adoption Platform?
Digital adoption platforms (DAPs) are a type of digital adoption solution that integrates fully with enterprise applications. The software walks users through different parts of the application, offering step-by-step instructions to help them complete specific tasks.
DAPs also have self-help menus with links to articles, videos, and guided walk-throughs so that users can effectively learn every aspect of the application.
The role of a DAP is to facilitate digital adoption, either by customers or within a company. DAPs help people quickly and easily learn to use new technology by guiding them throughout the application and offering extensive resources to answer any questions. The software helps ensure that users won't get stuck when trying to learn certain tasks in the platform and won't overlook vital features.
Why Is a Digital Adoption Platform Important?
Inappropriate software use and issues with onboarding and other user processes cause more than 91% of enterprise software errors. Digital adoption platforms help prevent user error in the application by walking people step-by-step through different processes and tasks.
DAPs also help increase end-user adoption. When you invest in new technology for your company or as part of your product, you want your customers and employees to use the technology to its fullest extent. DAPs show people each feature of the technology and how to use it, guiding them to their aha moment faster. This helps ensure that your company gets maximum value (and therefore maximum ROI) from the application.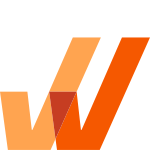 New Tech: Digital Adoption Platforms, Q2 2022
Benefits of Implementing a DAP
One of the top benefits of digital adoption platforms is increasing end-user adoption rates. Dimensions UK, a British nonprofit, increased its three-month user-adoption rate from 10% to 50% using Whatfix's DAP. Having a DAP helps ensure that everyone in your company is taking advantage of the new technology and that your customers see maximum value from tech investments in your product.
Other benefits of DAPs include:
Decreased time-to-value for new customers.
Reducing technology-related frustration for employees and customers, thus reducing support tickets.
Streamlining onboarding, training, and support.
Remaining up-to-date within your industry.
Ensuring partner companies are familiar with the full benefits of implementing your product.
Better knowledge-sharing. 
Improved software adoption and proficiency.
Types of Digital Adoption
There are three major types of digital adoption. A DAP can be used to drive adoption in the following ways:
1. For driving internal software adoption for employees
Implement a DAP within your company to help onboard and train employees to use new technology, as well as provide on-demand support.
Create task lists and in-app guidance to keep employees on track and ensure that they learn the most essential features for their work. Monitor user analytics to see whether employees are getting stuck, and create additional walk-throughs where needed.
With Self-Help, employees always have an in-app knowledge base that allows them to search for and find all relevant documentation and answers to their questions – which pulls from a company's intranet, Google Drive, and other contextual links.
2. For driving customer adoption
For enterprise application software, first-year adoption rates are often just 30-40%. Leveraging a DAP can help prevent customer frustration. Integrate the DAP with your knowledge base so customers have access to self-help materials and can find answers to their questions without waiting for support tickets. Check analytics regularly. This will help you find out where customers are having trouble so you can add to the knowledge base or set up alerts to guide users to relevant self-help materials.
3. For driving user adoption
Similarly to customer adoption, apps and websites can utilize a DAP to create onboarding flows, in-app guidance, and support help for users of a product. This helps get users to their aha moment faster, drives overall adoption, and reduces application frustration.
Drive software adoption with Whatfix's in-app guidance
The Best Digital Adoption Platforms
There are many digital adoption platforms to choose from. For this list, we looked for the most highly rated DAPs and for ones that offered the widest selection of helpful features for business applications.
Here are some of the best digital adoption platforms:
Whatfix: Offers contextualized guidance, surfacing relevant walk-throughs and self-help materials based on the user's role and where they are within the application.
Appcues: Fully integrates with your product, so guidance appears native, and customers have a consistent experience throughout the app.
Userlane: Offers in-app communication so you can send messages directly to users to provide support, ask for feedback, or promote new features.
WalkMe: Provides insights and analytics across multiple applications so you can see exactly where users are struggling, allowing you to develop an appropriate digital adoption strategy.
Whatfix has solved the new user onboarding issues that AutoZone faced. Having Whatfix as a centralized place for our latest training documentation is a game-changer and a major-league instrument for AutoZone.
Alan C.
Senior Content Development at AutoZone
How to Choose a Digital Adoption Platform
Choosing a DAP that is specific to the needs of your organization can be a complicated task. The best method is to consider the potential features of a digital adoption platform and choose the platform that offers features that address your business's core concerns.
To make this easier, we put together a list of features to consider when choosing a platform for your company:
1. In-app guided learning experiences
DAPs core functions are their in-app guided content and learning experiences. DAPs provide organizations with the tools to create multiple types of guided content, including:
Interactive walkthroughs
Step-by-step flows
Smart tips
Tasklists
Self-help knowledge bases
Product tours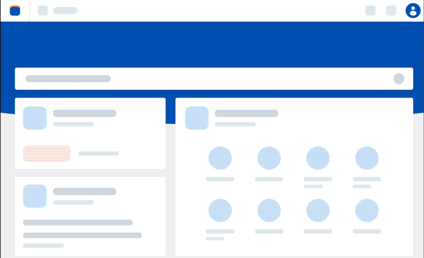 When choosing a DAP, be sure to check the various features included in their platforms to align their content creation capabilities with your in-app learning needs.
2. Easy content creation and management
DAPs require various levels of content creation skills. Some require teams to know coding, while tools like Whatfix are a complete no-code content creation platform.
Once you create and publish the training content, you still might need to make updates on a regular basis. Your DAP should allow you to quickly update your existing content and release it to your users within as short a time frame as possible.
3. Contextual self-help support
One of the most powerful features of digital adoption solutions are contextual self-help widgets embedded into your applications.
These self-help widgets integrate with your knowledge base, intranet, file storage system, and online links to provide users with a searchable self-help assistant to find answers and documentation to contextual application support questions.
4. User behavior analytics
DAPs provide various levels of employee and user behavior data by capturing how applications are being used, and how your in-app content is being consumed – without the need for engineers to create a technical user event tracking framework.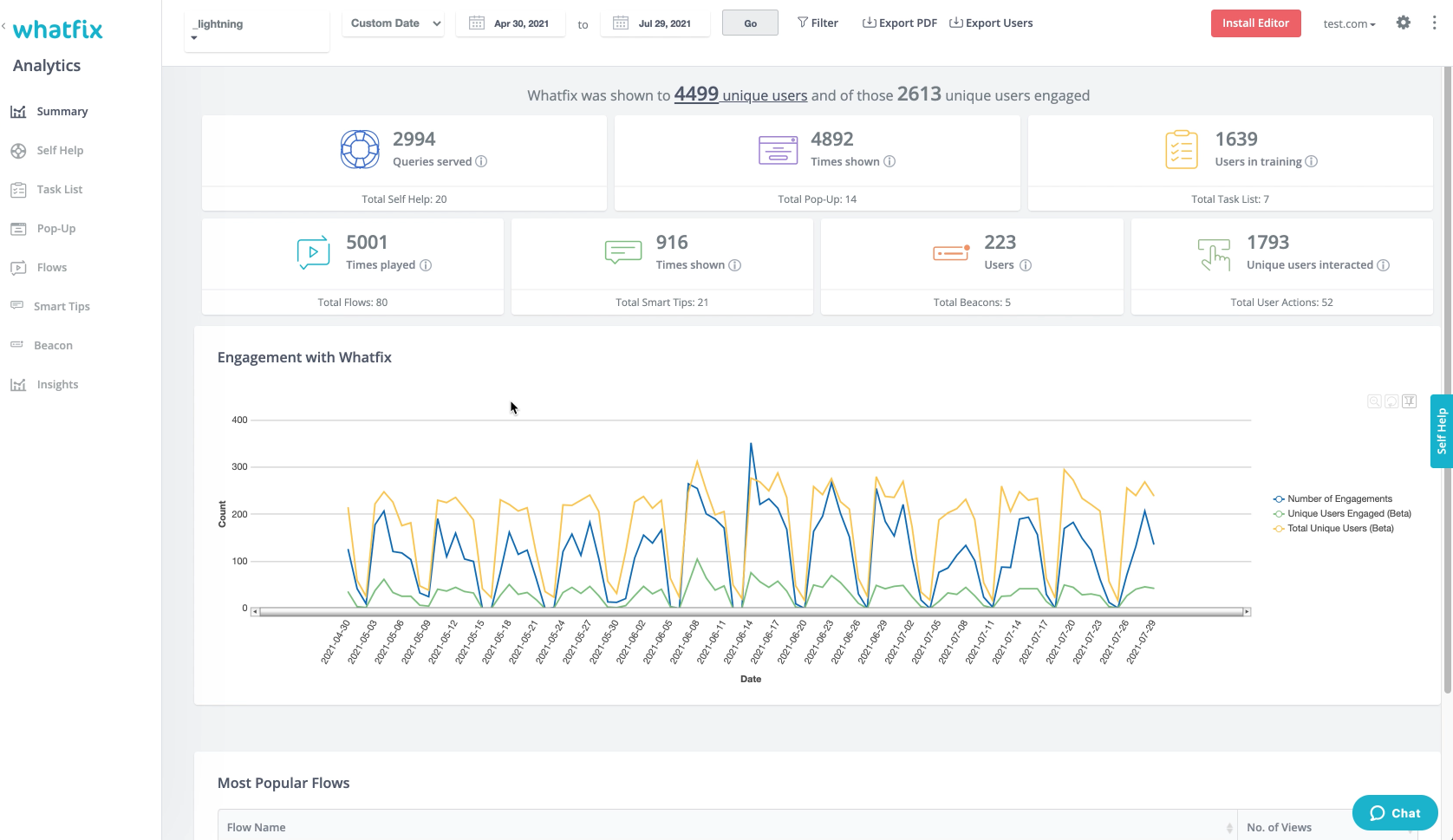 This allows for teams to understand gaps in their learning content and improve onboarding and training.
5. Automate multi-format content creation
Some DAPs like Whatfix automatically repurposes in-app content in various content formats, allowing employees and users to download and export the training content as PDF documentation, slide decks, and videos.
6. Built-in user feedback
Some DAPs such as Whatfix provide organizations with features to capture employee and customer feedback on their onboarding, learning, and support content – right in the flow of work. 
7. Easy implementation and integration
DAPs are enterprise-grade applications, which means they could be time-consuming and tedious in nature during implementation. It's critical to research and select a DAP that offers implementation services and/or implementation through partners.
You'll also need to confirm that the DAP you select will integrate with both your other learning software (ie. your LMS), as well as the enterprise applications and custom apps you want to deploy in-app content on.
When we talk about support, it is important to note that we mean all-round customer support. What this means is that you need to look for assistance that starts right from the time you consider purchasing a DAP to its implementation and throughout the customer lifecycle. Ideally, it should cover technical assistance, implementation support, and client success. Support in the broadest sense is making sure that your customer derives the full potential from your solution. It needs to be 24/7, interactive, and more importantly, immediate. 
We would suggest that you look for customer reviews on multiple software listing sites such as Capterra, G2, TrustPilot etc. that speak about the support and customer service offered by a vendor. 
More than just technical support, what you need is continuous guidance on the value derived by using the platform. A point of contact who understands your organizational setup, your goals with the platform and accordingly provides end-to-end assistance to your users to ensure that you hit the intended milestone.
Implement your digital adoption platform successfully and effectively by following these simple strategies:
Educate employees about the adoption.  Talk to employees about the new technology you are adopting and the digital adoption platform you'll use. Educate them on the benefits of a DAP and the increased access to self-help materials that it will provide.
Integrate your existing knowledge base.  Save time on content creation by integrating your current articles into the digital adoption platform. The DAP can then access these materials and surface them in-app, where it is relevant for the user.
Monitor user analytics.  Watch how employees are using the DAP, and see where in the application they are still struggling. Use this information to create additional content and help streamline the onboarding and training processes for other users.
Designate a digital adoption manager. One other key strategy for implementing a DAP is to designate a digital adoption manager. This role oversees the implementation of new technology within the company and ensures that the process goes smoothly. This includes oversight of a digital adoption platform. A digital adoption manager serves as a single point of contact for employees during the transition. The manager would explain the platform and collect user analytics and feedback to make recommendations to upper management. A digital adoption manager helps with the successful implementation of a DAP and ensures that regular updates are made to training materials to continually improve training.
Ask for feedback.  Use in-app surveys to see what employees think of the digital adoption platform and how you can improve it. Ask whether there are features or topics where employees would like to see more training content.
Digital Adoption Platforms & Remote Work
Digital adoption platforms are invaluable for distributed or fully remote teams. Here are a few of the ways a DAP can help with remote work:
A DAP enables asynchronous onboarding. A DAP can help onboard new employees by providing training the employee can access wherever they are with asynchronous learning. This cuts down on the need for remote managers to lead video training sessions, and it allows new employees to learn at their own pace.
Analytics provide in-depth insight for managers. With remote teams, it can be harder to tell when an employee is struggling. DAP analytics offer insight into where team members are having trouble, so managers can provide personalised support.
Task lists and microlearning plans provide structure. Ensure that your remote employees stay on track with training by assigning task lists or microlearning plans. Managers can see what tasks employees have completed, and they can send nudges or reminders in-app if necessary.
DAPs integrate with your LMS to support professional development. Offer personalized course suggestions from your learning management system (LMS) to encourage employee learning. Use DAP analytic capabilities to track course progress and completion.
Learn more about how digital adoption platforms simplify remote work.
Don't see your answer? Send a message to our live chat, we'd be happy to help!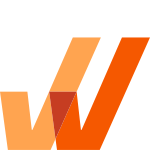 Request a demo to see how Whatfix empowers organizations to scale enterprise-wide changes, improve user productivity, and drive user adoption fast.