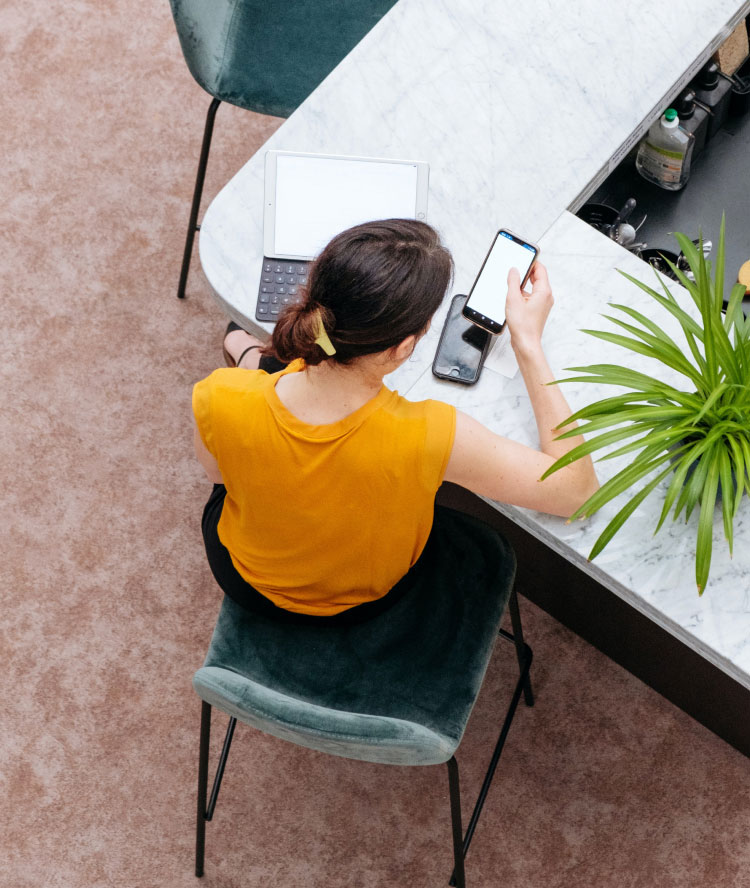 Last modified: 27 September 2021
The following terms and conditions govern all use of the website located at https://whatfix.com/ ("Website")  and our "Whatfix" Digital Adoption Platform ("Whatfix Software") including all of the materials, documents, text, images, graphics, animation, videos and other information and content included in or available at the Website (Content). The Website, Whatfix Software, Content and any services provided at the Website are collectively referred to as the "Service".
The Website is operated and owned by Whatfix Private Limited (Formerly known as Quicko Technosoft Labs Private Limited), a company incorporated under the Companies Act, 1956 and having its registered office at 1090e, 18th Cross Rd, Sector 3, HSR Layout, Bengaluru, Karnataka 560102. For the purpose of these Terms of Service, wherever the context so requires, "you" or "User" shall mean any natural or legal person who has agreed to become a user on the Website by registering on the Website as a registered user using any computer systems. The terms "Whatfix", "we", "us" or "our" shall mean Whatfix Private Limited.
By using the Website you agree to be bound by these Terms of Service  (this "Terms"). The Terms shall be deemed to include all other operating rules, conditions, policies and procedures that are referred to herein or that may otherwise be published at the Website by us from time to time (collectively, Policies), including without limitation, the Privacy Policy.
IF YOU OBJECT TO ANYTHING IN THIS TERMS OF SERVICE , DO NOT USE THE WEBSITE OR THE SERVICE. THESE TERMS ARE SUBJECT TO CHANGE BY WHATFIX AT ANY TIME, EFFECTIVE UPON POSTING ON THE WEBSITE, AND YOUR USE OF THE SERVICE AFTER SUCH POSTING WILL CONSTITUTE ACCEPTANCE BY YOU OF SUCH CHANGES. THESE TERMS OF SERVICE GOVERN THE RELATIONSHIP BETWEEN YOU AND WHATFIX.
User Registration
Whatfix may make all or any part of the Service available only to registered Users (such as, for example, to apply for, subscribe or gain access to various information services or employment opportunities). You may elect to register or not, at your discretion. The registration process may require you to provide your name, company name, address, telephone number, email address and certain additional personal data or other information.
You must provide us accurate information, when you create your account on Whatfix. You are responsible for safeguarding the password that you use to access the Service and for any activities or actions under your password. We encourage you to use "strong" passwords (passwords that use a combination of upper and lower case letters, numbers and symbols) with your account. Whatfix will not be liable for any loss or damage arising from your failure to comply with this instruction.
By registering on Whatfix, you consent to our using the email address to send you Service-related notices, including any notices required by law, in lieu of communication by postal mail
Subscription
If you subscribe to our Whatfix Software (defined as a "Customer") your use and access of the Whatfix Software shall be governed by the Customer Subscription Terms, linked here – Australia, India, UK, US.
.
Access And Use Of Whatfix Services
Subject to these Terms , Whatfix may offer to provide the Services as described herein. Services shall include, but not be limited to, any services Whatfix performs for you, including but not limited to the Whatfix Software, as well as the offering of any Content (as defined below). We may, with prior notice, change the Service; stop providing the Service or features of the Service, to you or to users generally; or create usage limits for the Service, including the availability of any feature, database, or Content. Whatfix may also impose limits on certain features and services or restrict your access to parts or all of the Services. By providing Whatfix your email address you consent to our using the email address to send you Service-related notices, including any notices required by law, in lieu of communication by postal mail.
User Representations And Undertakings
You represent and warrant at all times throughout your use of the Website and/or Services that: (i) you have full authority to agree to these Terms, and there is no restriction, limitation, contractual obligation or statutory obligation which prevents you from fulfilling  your obligations under these Terms; (ii) you are and will continue to be in compliance with all applicable laws, rules, and governmental (state, local, and community) and regulatory levies and requirements relating to your use of the Site and/or the Services; (iii) your use of the Site and/or Services has not been previously blocked, suspended or terminated; (iv) you do not authorize a third party to do any of the foregoing; and (v) you will not infringe or violate any of these Terms.
Submissions And Feedback
As a User of the Services, You may have the ability to make certain information, data, content or other materials, including testimonials, reviews, posts, comments and other user-generated content, pictures, flows and documents available through or in connection with the  Service (each, a "Submission"), including on profile pages or on the Website's interactive products or services, such as message boards and other forums, and chatting, commenting and other messaging functionality. Submissions reflect only the opinions of the User who made available the Submission and not the opinions of Whatfix, regardless of whether the user is affiliated with Whatfix , and may contain or constitute Third Party Websites (as defined below). Any Submissions made available through any message board or forum in response to posted questions, or that otherwise purports to answer any questions, including any questions about Whatfix Services, are made available for your general knowledge only and should never be relied upon as answers to your specific questions (even if an answer is marked as a "best" answer or with any similar qualifications). You should always contact Whatfix support for answers to your specific questions.
If you provide or otherwise make available to Whatfix any suggestions, enhancement requests, recommendations, corrections or other feedback ("Feedback"), related to any Whatfix Software or otherwise, then the terms of the Agreement applicable to Submissions will also apply to such Feedback, and you hereby acknowledge and agree that such Feedback is not confidential, and that your provision of such Feedback is gratuitous, unsolicited and without restriction, and does not place Whatfix under any fiduciary or other obligation
License: If you submit, upload or otherwise disclose or distribute information, data or other content of any kind (including without limitation, any Submission or  Feedback related to Whatfix's services) at the Website or otherwise through the Service, then you hereby:
grant and agree to grant to Whatfix, its affiliates and their successors and assigns a perpetual, irrevocable, non-exclusive, royalty-free right and license (with right to sublicense) to use, reproduce, display, perform, adapt, modify, distribute, make derivative works of and otherwise exploit such content in any form and for any purpose, including without limitation, any concepts, ideas or know-how embodied therein;
represent and warrant to Whatfix that you own or otherwise control all rights to such content and that disclosure and use of such content by Whatfix (including without limitation, publishing content at the Website) will not infringe or violate the rights of any third party; and
agree that such content will not be treated confidentially by Whatfix.
Rules And Conduct
You must not do any of the following while accessing or using the Service: (i) use the Service for any unlawful purposes or for promotion of illegal activities; (ii) post any Content (as defined below) or use the Service in violation of any applicable law (including intellectual property laws, right of privacy or publicity laws, and any laws in India or outside India. jurisdiction applicable to you), or any contractual or other legal obligation; (iii) post Content that is hateful, abusive, threatening, profane, or otherwise objectionable; (iv) post Content or use the Service to create an impression that you know is incorrect, misleading, or deceptive, including by impersonating others or otherwise misrepresenting your affiliation with a person or entity; (v) publish or post other people's private or personally identifiable information without their express authorization and permission; (vi) use the Service for the purpose of spamming anyone; (vii) publish or link to malicious content intended to damage or disrupt another user's browser or computer or to compromise a user's privacy; (viii) access or tamper with non-public areas of the Service, Whatfix computer systems, or the technical delivery systems of Whatfix providers; (ix) probe, scan, or test the vulnerability of any system or network or breach or circumvent any security or authentication measures; (x) access or search or attempt to access or search the Service by any means (automated or otherwise) other than through the currently available, published interfaces that are provided by Whatfix (and only pursuant to those terms and conditions), unless you have been specifically allowed to do so in a separate agreement with Whatfix (crawling the Service is permissible in accordance with these Terms, but scraping the Service without the prior consent of Whatfix except as permitted by these Terms is expressly prohibited); (xi) forge any TCP/IP packet header or any part of the header information in any email or posting, or in any way use the Service to send altered, deceptive or false source-identifying information; or (xii) interfere with or disrupt (or attempt to do so) the access of any user, host or network, including, without limitation, sending a virus, overloading, flooding, spamming, mail-bombing the Service, or by scripting the creation of Content in such a manner as to interfere with or create an undue burden on the Service. Whatfix may investigate and/or suspend your account if you violate any of the above policies. Whatfix reserves the right to immediately terminate your account without further notice in the event that, in its judgment, you violate these Terms.
Privacy
Whatfix takes the privacy of its users very seriously. For the current Whatfix Privacy Policy, please click here. If you have subscribed to the Whatfix Software, your data shall be processed in accordance with the Data Protection Agreement linked here.
Informational Purposes Only
All Content is provided for informational purposes only, and any other use of the Content (or other aspect of the Service) is expressly prohibited. Whatfix cannot monitor or control how you may interpret the Content or your resulting actions, and you hereby release Whatfix from all liability related to your having acquired or not acquired Content through the Service.
Whatfix has no obligation to monitor the Service or any use thereof.
Proprietary Rights
All right, title, and interest in and to the Service (excluding Content provided by Users) are and will remain the exclusive property of Whatfix and its licensors. Nothing in these Terms gives you a right to use the Whatfix name or any of the Whatfix trademarks, logos, domain names, and other distinctive brand features..
Copyright And Trademark Notices.
Unless otherwise indicated, all Content and the Terms of Service are Copyright of Whatfix Private Limited. All rights reserved.
All logos and other proprietary identifiers used by Whatfix in connection with the Website and Services, ("Whatfix Trademarks") are all trademarks and/or trade names of Whatfix, whether or not registered. All other trademarks, service marks, trade names and logos, which may appear on or with respect to the Website and/or Services belong to their respective owners ("Third-Party Marks"). No right, license, or interest to Whatfix Trademarks and/or to the Third-Party Marks is granted hereunder, and you agree that no such right, license, or interest shall be asserted by you with respect to Whatfix Trademarks or the Third-Party Marks and you will not use any of these marks, unless expressly permitted to do so.
Copyright Infringement Policy
Whatfix takes copyright infringement seriously. We will respond to notices of alleged copyright infringement that comply with the applicable law. If you believe any materials accessible on or from the Website infringe your copyright, you may request removal of those materials (or access to them) from the Website by submitting written notification to [email protected].
Third-Party Websites
The Service may contain links to third-party websites or resources. You acknowledge and agree that we are not responsible or liable for: (i) the availability or accuracy of such websites or resources; or (ii) the content, products, or services on or available from such websites or resources. Links to such websites or resources do not imply any endorsement by Whatfix of such websites or resources or the content, products, or services available from such websites or resources. You acknowledge sole responsibility for and assume all risk arising from your use of any such websites or resources.
WARRANTY DISCLAIMER.
THE WEBSITE, CONTENT AND OTHER ASPECTS OF THE SERVICE ARE PROVIDED "AS IS" AND "AS AVAILABLE," WITHOUT REPRESENTATION OR WARRANTY OF ANY KIND, EXPRESS OR IMPLIED, INCLUDING, BUT NOT LIMITED TO, THE IMPLIED WARRANTIES OF TITLE, NON-INFRINGEMENT, MERCHANTABILITY AND FITNESS FOR A PARTICULAR PURPOSE, AND ANY WARRANTIES IMPLIED BY ANY COURSE OF PERFORMANCE OR USAGE OF TRADE, ALL OF WHICH ARE EXPRESSLY DISCLAIMED. NEITHER WHATFIX NOR ITS AFFILIATES REPRESENT OR WARRANT THAT: (A) THE SERVICE WILL BE TIMELY, ACCURATE, COMPLETE, RELIABLE OR CORRECT; (B) THE SERVICE WILL BE SECURE OR AVAILABLE AT ANY PARTICULAR TIME OR LOCATION; (C) ANY DEFECTS OR ERRORS WILL BE CORRECTED; (D) THE SERVICE IS FREE OF VIRUSES OR OTHER HARMFUL COMPONENTS; OR (E) THE RESULTS OF USING THE SERVICE WILL MEET YOUR REQUIREMENTS. YOUR USE OF THE SERVICE IS VOLUNTARY AND SOLELY AT YOUR OWN RISK.
Limitation Of Liability.
IN NO EVENT SHALL WHATFIX OR ITS AFFILIATES BE LIABLE CONCERNING THE SUBJECT MATTER OF THIS AGREEMENT, REGARDLESS OF THE FORM OF ANY CLAIM OR ACTION (WHETHER IN CONTRACT, NEGLIGENCE, STRICT LIABILITY OR OTHERWISE), FOR ANY (A) MATTER BEYOND ITS REASONABLE CONTROL, (B) LOSS OR INACCURACY OF DATA, LOSS OR INTERRUPTION OF USE, OR COST OF PROCURING SUBSTITUTE TECHNOLOGY, GOODS OR SERVICES, (C) INVESTMENT LOSSES OR INDIRECT, PUNITIVE, INCIDENTAL, RELIANCE, SPECIAL, EXEMPLARY OR CONSEQUENTIAL DAMAGES (INCLUDING, BUT NOT LIMITED TO, LOSS OF BUSINESS, REVENUES, PROFITS OR GOODWILL), OR (D) DAMAGES, IN THE AGGREGATE, IN EXCESS OF US$100, EVEN IF WHATFIX HAS BEEN ADVISED OF THE POSSIBILITY OF SUCH DAMAGES. THESE LIMITATIONS ARE INDEPENDENT FROM ALL OTHER PROVISIONS OF THIS AGREEMENT AND SHALL APPLY NOTWITHSTANDING THE FAILURE OF ANY REMEDY PROVIDED HEREIN.
SOME STATES AND OTHER JURISDICTIONS DO NOT ALLOW THE EXCLUSION OR LIMITATION OF LIABILITY FOR INCIDENTAL OR CONSEQUENTIAL DAMAGES, SO THE ABOVE LIMITATIONS AND EXCLUSIONS MAY NOT APPLY TO YOU.
Indemnity
You agree to defend, indemnify and hold harmless Whatfix, its parent corporation, officers, directors, employees, affiliates and agents, from and against any and all claims, damages, obligations, losses, liabilities, costs or debt, and expenses (including but not limited to attorney's fees) arising from:
your use of and access to the Website;
your violation of any term of these Terms of Service;
your violation of any third party right, including without limitation any copyright, property, or privacy right; or
any claim that one of your Submissions caused damage to a third party.
This defense and indemnification obligation will survive these Terms of Service and your use of the Website.
Changes.
Whatfix reserves the right, at its sole discretion, to modify or replace any of the Terms of Service (including any Policy) at any time. It is your responsibility to check the Terms of Service periodically for changes. Your continued use of the Service following the posting of any changes to the Terms of Service constitutes acceptance of those changes. The Terms of Services (as it applies to you) may not otherwise be amended except by written instrument executed by you and Whatfix.
Governing Law And Jurisdiction
These Terms of Services are governed by the laws of India. Any action, suit, or other legal proceeding, which is commenced to resolve any matter arising under or relating to this Website and/or Services, shall be subject to the jurisdiction of the courts at Bangalore, India.
Contact Us
If you have questions about these Terms, please contact us at the below address:
Whatfix Private Limited,
1090e, 18th Cross Rd,
Sector 3, HSR Layout,
Bengaluru, Karnataka 560102
E-mail:[email protected]
Whatfix offers an optional feature to upload Whatfix flow videos to users' YouTube channel. For this, Whatfix uses YouTube API services, which are governed by YouTube Terms Of Services.
Whatfix Community Terms
Last Updated on 27 September 2021
About
The Whatfix community page located at https://community.whatfix.com/ is an online platform for Users to create interactive work flows for individual use and guidance ("Whatfix Community" or "Community").
Whatfix Community Terms And Conditions
Welcome to the terms and conditions for Whatfix Community ("Community Terms"). These Community Terms are between you and Whatfix Private Limited and/or its affiliates ("Whatfix" or "Us") and govern our respective rights and obligations.
User Content
"User Content" means any information, text, flows, graphics, or other materials created, edited, uploaded, downloaded, posted by you, on the Whatfix Community. Whatfix may enable you to contribute content to and edit content in certain communities, forums, libraries or pages of a Community.
Whatfix community is hosted on Vanilla forums whose infrastructure is located in Canada which is covered by the adequacy decision of GDPR. All data subject rights will be governed by the terms and conditions of your existing subscriptions services agreement with Whatfix.
"Ideas" You and other users of a Community may have the ability to make available information, ideas, comments and other materials related to, and feature requests for, Whatfix Software and services (collectively, "Ideas") on or through such Community, including through a page or forum intended for the exchange of ideas or a page identified as an "Ideas" forum.
License. You retain ownership of all User Content and Ideas you submit, post, display, or otherwise make available on the Community, and the same will be deemed as Submission. To the extent that you have or obtain any proprietary rights that may be infringed, misappropriated, or otherwise violated by the operation of any Community, you hereby grant to Whatfix a worldwide, royalty-free, fully paid-up, non-exclusive, perpetual, irrevocable, transferable and fully sublicensable (through multiple tiers) license, under such proprietary rights, to operate each Community, as it may be modified, updated or upgraded from time to time.
Monitoring
Whatfix may (but has no obligation to) monitor, evaluate, alter or remove User Content or other Submissions, including those made available on or through any private messaging functionality, including for purposes of promoting the security of the Community or Whatfix Software or service, and including to remove any spam message.
These Community Terms are co-extensive and concurrent with Whatfix's Terms of Service and the Privacy Policy listed on this page. As such, all other Terms of Service listed hereinbefore shall also be applicable to the Community Terms and the same need not be expressly repeated herein.